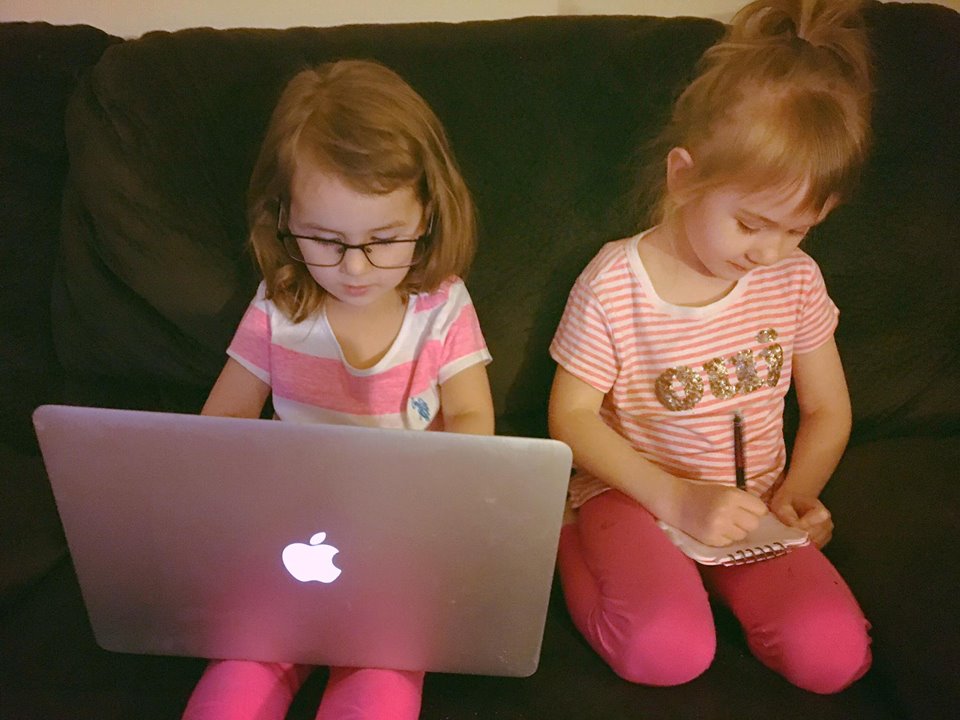 Curious about what others think of Singing Fire? Scroll on to see a few reviews. *Side note: Yes, those are my daughters featured in the above image. My biggest critics 😉
Carrie {The Butterfly Reader} rated it: 5 STARS
it was amazing
bookshelves: january-2017
I can't even…. I don't even know where to start or what to say. The character development in here is some of the best I've ever seen. Charlie is SO real. I also relate to her well because of her anxiety and I think the use of it in this book does it justice. It's real, gritty and sometimes it's hard to deal with.
I also love the plot, I love paranormal romance and this was seriously the best book for me. It had everything I love and even things I didn't know I loved. It's seriously great. I do not want to spoil this book as I think it's best to go in knowing nothing. It's so enjoyable. It blew my mind with how good it was, I was not expecting it to be as wonderful as it was.
If you've not read this, change that. Get this book and get ready for an amazing read with top notch characters, world building, and a realness that lots of books are missing these days.
I'm just nervous to see if the squeal can live up to my hopes after reading this one.
Thank you to the author for giving me a copy of this book for review. I can't thank you enough for letting me read your amazing work.
(Click here to see the original review as listed on Goodreads.)
Danielle rated it: 5 STARS
Shelves: young-adult, urban-fantasy, romance
"Perhaps the wildest facet of all: she didn't even know. The girl was entirely oblivious to just how much her life was about to change."
This was a fabulous YA debut by T.L. Martin.
Charlotte is an ordinary girl, or so she thinks. Having to exercise often to keep herself from being sick has become her normal routine and one she hasn't even tied with the paranormal.
When she applies at a whimsical tea shop, she is thrown into a paranormal world of witches, vampires, and demons. Turns out her little town has a big secret.
Her entire life has been run by her chronic panic attacks, and friends were never something she had. I loved how she made friends with a few other characters, and how well developed her character was.
The love interest: a sexy, but enigmatic vampire. It was definitely a forbidden love, which is one of my favorites tropes ever. It was very slow-building and well done.
I really enjoyed Charlotte's maturity. She didn't appear as young as she was, and I found her a very relatable heroine.
Overall, an original take on paranormal, and I'm looking forward to the second!
(Click here to see the original review as listed on Goodreads.)
Sarah rated it: 5 STARS
This is the story of reincarnated rock who brings out the deepest part of those around it and shows that sometimes villains are not always what they seem and stereotypes cannot always be trusted.
This debut novel is filled with all the twists and turns of any seasoned author. The characters are unique, and the world, while staying true to our universe, is plunged magnificently into magic (along with the main lead). Following Charlie on her adventure is a delight as she breaks out of her hermit cocoon and finally starts to live, gaining friends and love along the way. The romance sprinkled into this novel is tasteful and beautiful despite its clear 'subplot' feel. The male lead is fantastically written and seems to embody mystery and gentleness all while being a ruthless vampire capable of murder. Being the hopeless romantic that I am, I would have liked more scenes with the amazing male lead, but even without a gushing romance, I still fell for him after the first few chapters.
I have high hopes for the next book as this novel does end with a huge cliffhanger that leaves me anticipating the happily ever after that is sure to come. I can't wait for more information about the pasts of these characters as well as more information about the true villain lurking in the shadows.
5/5 for the male lead alone. A very enjoyable and unpredictable read!
(Click here to see the original review as listed on Goodreads.)
Chloe rated it: 4 STARS
Shelves: arc
Amazing book! Book Talk up soon!
(Click here to see the original review as listed on Goodreads.)
Amazon Customer rated it: 5 STARS
the dark feeling gave me all the right shivers.
By Amazon Customer on November 30, 2016
Format: Kindle Edition
T.L. Martin's adventure into witchcraft and vampires starts with plopping you in this small town where nothing ever happens and with a protagonist who is so relate-able its scary, i had the pleasure of getting a copy of this book, and I can honestly say that i could not put it down, (mind you im not a fan of supernatural things) however the more and more i read this deeply engaging story the more i was drawn into it.
lets get down to the actual review
the characters were likable and realistic, they felt like people i knew 5/5
plot is great, and had me making guesses about it the whole way through 5/5
theme is nice and dark, and makes me feel the same sense of dread in all the right places. 5/5
all in all, i highly recommend this book, if you are a fan of twilight but feel that you want a little more dark atmosphere. Cant wait to read the second book.
(Click here to see the original review as listed on Amazon.)
Amazon Customer Rated it: 5 STARS
Enchanting, kept me wanting to know more each page I read.
ByChele Medinaon
Format: Kindle Edition|Verified Purchase
This is a great fantasy story, it has the charm of Harry Potter with the romance of Twilight. Very well written and now I'm excited for part two. I love all the characters, the good, the bad and the wicked.
(Click here to see the original review as listed on Amazon.)